Hog Roast Gamlingay has a variety of pig parts for events.
Do you like bacon? Smoked or unsmoked? Hog Roast Gamlingay serves bacon as part of its many menus. Enjoy a bacon bap as breakfast, many corporates book this as a treat for their employees. On the other hand, enjoy is as your wedding reception food! Easily soaks up alcohol and tastes amazing with a selection of rolls and sauces including with it. Only the best butchers, back bacon is used so it's guaranteed to be super delicious.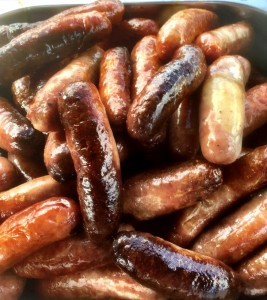 How about sausages? Do you like yours plain or seasoned? Hog Roast Gamlingay has a variety of menus with sausages on for example, the Gourmet BBQ menu. The sausages on this are usually Cumberland or Lincolnshire seasoned sausages, however recently, the catering managers have experimented with Spanish-flavoured sausages with a similar taste to chorizo and coconut and jerk infused sausages, both went down really well! Sausage baps can be made for a breakfast event alongside the bacon rolls or as another option for the wedding reception food with the bacon baps. Some even add on sausages as an extra to their menu or for any children guests.
The common one since they are Hog roast specialists is, of course, pulled pork. Moist and flavoursome pulled pork straight from a whole pig that cooks in its juices at a low temperature over a long period of time. The tastiest hog roast meat you'll ever experience. Pulled pork is also part of the Southern Slow Roast menu. It gets infused with Bourbon BBQ sauce making it even more flavourful! On the other hand, you get carved pork from a spit-roasted pig.
The pig's cheeks are said to be the best and most succulent part of the pig. Over the years, Hog Roast Gamlingay has been asked to carve out the pig's cheeks for guests to try! Overly moist and hard to get to, but according to the feedback, totally worth it!
Most of the guests believe that the crackling is the best part. Hog Roast Gamlingay makes it crackle particularly well by creating slots in the skin adding water and massaging table salt into it.
Most canine friends claim that the best part is the pig's ears. Hog Roast Gamlingay always gains a new furry best friend at garden parties, they usually enjoy a treat at the end if the owner allows it!