When it comes time to discuss the menu for your dream wedding breakfast, one question that we've noticed regularly pops up is: Is a hog roast the right move? Given our name, you can probably hazard a guess as to how we're going to respond to that one, but we're here to put your mind at ease all the same!
At Hog Roast Wyboston, our life passion is serving perfectly cooked, spit-roasted pork to the masses. In fact, since our inception almost three decades ago, we have successfully managed innumerable celebrations – and we're that good at what we do that so many of our clients have returned to us for additional events.
What's our secret? Well, besides having a team of star chefs and caterers, we have also cultivated a varied menu selection that is inclusive to everyone – and we do mean, everyone! When you place a booking with Hog Roast Wyboston, you aren't just getting the finest quality pork in the country; you also get to choose from a wealth of free-range meat and fish options. Think chicken, spring lamb, beef, duck, salmon and more!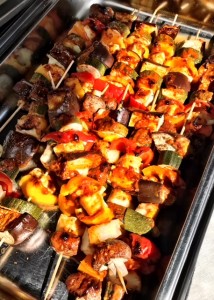 We've also taken vegans and vegetarians into consideration, meaning you can choose from a range of tasty plant-based options, which are produced with the same level of care and attention to detail as that of our meat dishes. What's more, if you do opt for a full hog roast with all the trimmings but don't want to upset your meat-free friends, you can simply ask us to remove the head before our arrival, which we will be more than happy to do for you.
Unlike the majority of mobile catering services, Hog Roast Wyboston prepares all of our food from scratch, on-site, meaning you can witness as your meal takes shape over a period of hours – and especially when it comes to our spit-roasted pigs, we can attest that this process really is a sight to behold! Your guests will love the fresh-tasting, aromatic foods we create, and with unlimited flavour combinations, everyone's palates will be expertly catered to when we're in charge.