Food comes in and out of fashion in the same way that clothes do. Many food trends become popular each year, while older trends become unpopular. Since Hog Roast Bassingbourn have so many dishes on offer, we are often able to keep up with current food trends and provide modern and up to date menus. Here are just some of the current food trends of 2021 and how Hog Roast Bassingbourn can cater for them.
Steak is a timeless classic
Steak is an incredible dish and one that never goes out of fashion. It is a staple dish for many restaurants and catering companies due to its versatility and popularity. It is loved by many guests and is perfect for formal events, such as dinners and balls. Hog Roast Bassingbourn offer a delicious sirloin of English beef, which is cooked to your liking.
Individual desserts
Individual desserts have grown in popularity over the last year since they are more hygienic than dividing one large dessert between guests in the age of COVID-19. Hog Roast Bassingbourn have several individual desserts, including cheesecake and sticky toffee pudding. Not only can this be more hygienic, but they also look more enticing and delicious since it can be perfectly decorated on a smaller scale.
Miniature food that is 'picnic ready'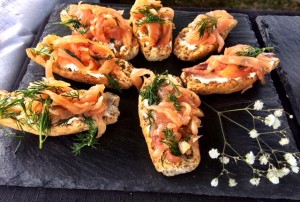 Canapes are growing in popularity; they are no longer just for formal events! Instead, they can be enjoyed for any event, since they are such a versatile option and allow your guests to try many different dishes and flavours. Hog Roast Bassingbourn have so many different canapes for you to choose between, including salmon, mini pizzas, mini fish and chips, and duck.
If any of these dishes have tempted you to try Hog Roast Bassingbourn catering, simply get in touch with our team to book your event. We have over 7 different menus to choose between, so we can guarantee that there is something that is right for you. All we need to know is your party size, date and location and we can begin to plan your perfect menu.