For Matthew and Jane's wedding reception meal on Saturday evening, they asked us to supply a winter warmer hog roast Histon as well as some sit-down courses. While the occasion would be fairly informal, a wedding day can be a tiring affair over many hours, so guests often enjoy being served at their tables for starters and desserts.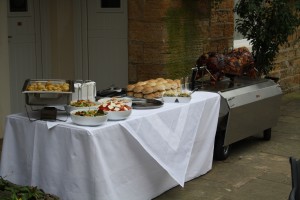 We would welcome their guests with champagne and several mouthwatering canapés, including gourmet sausages with wholegrain mustard, chicken satay skewers with a peanut dip and grilled fillet of beef with a salsa verde. Vegetarian canapés would be halloumi kebabs, creamy wild mushroom bouchees, and various mini vegetable quiches. The couple chose a sit-down starter of fresh homemade tomato soup with crusty bread rolls, which would also be suitable for the veggie guests, and the dessert would be suitable too – choux pastry buns with whipped cream and chocolate sauce. Yum!
The pièce de résistance – the hog roast Histon centrepiece – would be accompanied by apple sauce, stuffing and a variety of seasonal vegetables, all smothered in our luscious, homemade onion gravy. For the latter, Matthew and Jane requested roasted sweet potatoes, butternut squash, and peas. Plus the vegetarian guests would be served a homemade lasagne for their main course.
Our team arrived at the lovely hotel venue several hours before service, while the couple would be saying their vows at a local church. We erected the marquee and set up the hog roast Histon machine and serving station and set to work preparing the huge pig to be cooked for around 6 long hours. For the 40 guests, a medium-sized hog would have sufficed, but the couple asked for a larger one so that their guests could eat as much as they wanted there and then also take home leftovers if they wanted.
The bride and groom and their guests arrived to welcome drinks and plenty of our canapés, and then it was time to serve the tasty starter before moving on to the hog roast Histon dinner, and then our chocolatey dessert was served at the same time as the couple's own wedding cake.
While the speeches were made, we stripped the hog clean and filled a huge tray with slices of meat and crackling for them to enjoy later, then we left the happy couple and their friends and family to dance the night away.