When Hog Roast Littleport caters your event or party, you're in safe hands, as we have more than three decades of experience supplying great quality food together with top-notch service for customers all over the country. We can provide the food and deal with the clearing up afterwards, so that you can concentrate on looking after your guests or simply sitting back and enjoying it with everyone else. We also offer the same professional service and attention to detail when you hire or buy one of our machines, too, which is what Lenny found out when he recently rented one of our range of professional-standard hog roasters.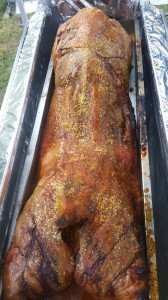 You may not know that we own the largest hog roast catering franchise in the UK, so we know a thing or two about hosting a roast and we love to pass on our experience to you, the customer. Having a DIY hog or spit roast is easier than you might think, whether you're a domestic or professional caterer, especially when you hire from us. We can give you the knowledge needed to operate your Hog Roast Littleport machine (and it's pretty easy, as that's how we designed our machines), let alone help you with tips on how to run your own hog or spit roast catering business.
Lenny is a local caterer who supplies hot and cold food for nearby events and celebrations and he came to us asking about renting our equipment. Having never cooked a hog roast before, he was keen to try this way of cooking himself, with a possible view to combining it into his business at some point in the future. He was very interested in hearing about our full range of hog roasting machines and excited to cook for his family that weekend to test one out.  On the Friday morning, I dropped off a machine at Lenny's home and walked him through how to use it. We supplied a small, free-range hog that would feed his family and provide leftovers for days. When collecting the machine from him on the Monday, he was more than happy with his first ever Hog Roast Littleport and knows it will be a hit with his customers, too, so he's purchasing his very own machine from us this week!