When Marianne wanted to celebrate winning an award for her writing last year, she asked Hog Roast Stretham to provide a wonderful spit roast chicken dinner for her close friends and family members. Now that she has recently published her first book, Marianne contacted us to order a hog roast feast at her home instead, so today our team set off to her countryside house early in the morning to start cooking the pig.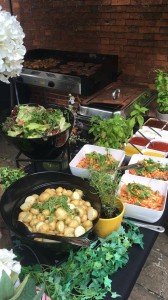 As well as our luscious hog roast rolls, Marianne wanted some fancy additions to her menu, including several hors d'oeuvres and glasses of champagne for the guests, to welcome them to the party. Our customer chose a selection according to her guests' favourite foods. We'd brought with us tiger prawns on skewers, pieces of smoked salmon on brown bread, fillet of beef with a salsa verde, our own handmade sausages and feta skewers for a vegetarian guest. These were all gobbled down with relish so we knew they'd been a big success.
On to the hog main, which had taken several hours to roast, and while it was resting for half an hour we sliced the bread rolls and got the apple sauce and stuffing ready. Once we got lots of crispy crackling off, slicing into the meat was easy as it was very tender and juicy. The guests were amazed by both the smells and the tastes that this hog gave them today and we took a few future bookings from satisfied people. The one vegetarian main dish was a vegetable tart that our chef made specially and this went down a treat, too.
Marianne had also asked us to provide dessert for her party, so once the guests were happy with their servings of the hog roast Stretham (some people enjoying seconds or thirds!) they had a little rest before we dished up lovely vacherins of strawberries and passion fruit cream, with a creamy meringue and mascarpone cheese.
Full to the brim with a wonderful selection of food, Marianne and her guests couldn't stop thanking us for a great evening and a delicious hog roast Stretham, and then we were off, leaving them all to dance the night away and celebrate Marianne's success.