There is a time when all employees should give back to their staff, to reward them for their hard work and commitment to the job. Rewards can come in a variety of forms, but one thing that everyone can enjoy is a delicious meal. At Hog Roast Huntingdon, we have menus that are perfect for any budget and any occasion, including a tasty buffet dinner that is ideal for enjoying at a staff meeting.
A local corporation wanted to provide catering for their staff, after a busy festive period of long shifts and plenty of hard work. Their manager, Sarah, contacted Hog Roast Huntingdon, to discuss which catering menus we have for the event that she was planning. She wanted to serve a menu for 45 guests, which included a variety of different dishes and something for everyone to enjoy. The menu was going to be served in the meeting room of the office, where there would be plenty of room to relax and enjoy good company and good food. It was decided that our Southern Slow Roast menu was an ideal choice since it is so versatile.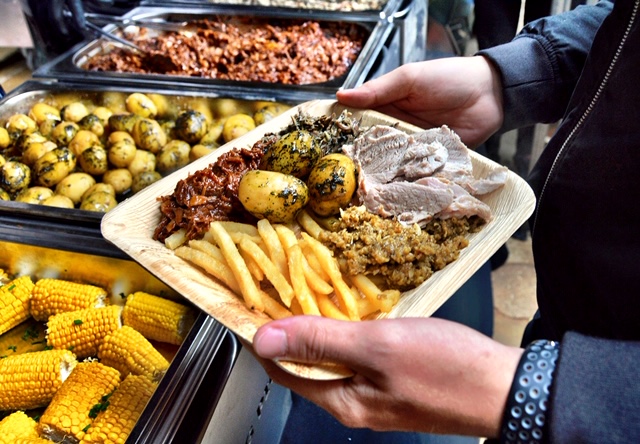 On the day of the event, the Hog Roast Huntingdon team arrived early in the morning to prepare the catering in time for the lunch break. We began by preparing the variety of main dishes, which included a pulled quarter of minted lamb, Cajun spiced whole-roasted chickens, and a BBQ pork butt, as well as BBQ pulled jackfruit for meat-free guests. The main dishes were served with a variety of sides, including crunchy coleslaw, corn cobettes, homemade chips, and Greek salad. This made a delicious meal with plenty for everyone to enjoy and lots to go around. The staff all enjoyed a delicious meal, and it was a great way to unwind after a busy work period.
Are you looking to give back to your staff in the form of a delicious lunch or dinner? If so, get in touch with Hog Roast Huntingdon today to find out what we can do for you. simply let us know your party size, date, and location and we can do the rest!