If you're planning any kind of corporate function where you need to cater for a number of guests with fresh, homemade food, whether it's a formal affair or a casual gathering and regardless of the type of venue, Hog Roast Kennett are the ones to call. Over the years, we've catered everything from seminars to conferences and team-building events to trade shows, as well as staff Christmas parties, product launches and so much more, so our highly experienced chefs and assistants will be able to cater your corporate do with ease.
When it comes to the menu that you'd like to feature, we're very flexible in that you're able to create your very own menu if you prefer, by mixing and matching items from ours, and that's whether you're thinking of having a sumptuous main with a side or two or a menu of multiple courses. You're welcome to pick and choose your favourite canapés, starters, sides and desserts if needed – just take a look at our extensive menus and you'll see just how much choice and variety we have on offer, as there's something for everyone.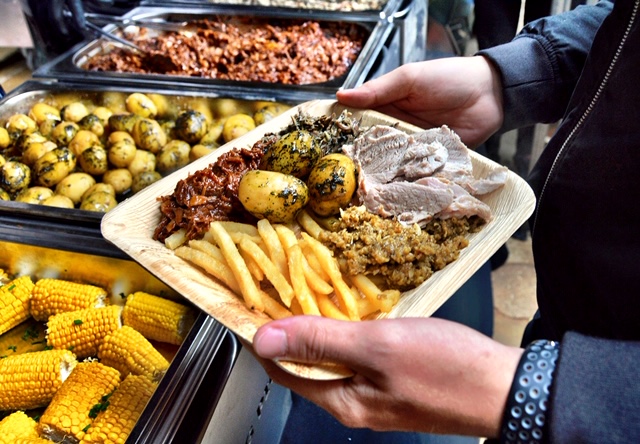 Nevertheless, if you'd rather choose one of our own Hog Roast Kennett standalone menus, you can select from several, including our Traditional Barbecue, Loaded Fries, Alfresco or Southern Slow Roast, and each of these is a tasty treat that will wow your guests from start to finish. You may love the thought of a barbecue served on the day, and ours includes several meats and sides, while our Loaded Fries main comes topped with meat, slaw, cheese and jalapenos. Fancy a three-course feast with an Italian accent instead? Our Alfresco is ideal and includes our signature food of a centrepiece hog roast, as well as antipasti platters and desserts, while our Southern Slow Roast gives you a trio of marinated meats and four sides, which you get to choose yourself in advance.
Also, if you need any diets catering, just let us know when you book and we'll ensure that all of your guests get to dine on our lovely food. Book with Hog Roast Kennett today and let us cater your next corporate function in style.