Whether you're choosing to dine indoors or outdoors for your next special occasion, whatever the weather, Hog Roast Kimbolton will cater in style and wow your guests from start to finish. We've spent many years attending all kinds of parties – from wedding receptions to birthdays and festivals to charity events – providing tasty food made from fresh, high-quality ingredients that are locally-sourced where possible. This includes the local meat that we get from our trusted suppliers of farmers and butchers, and we know that you really can taste the difference.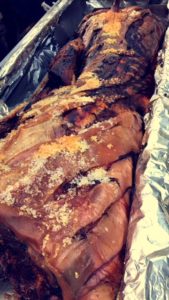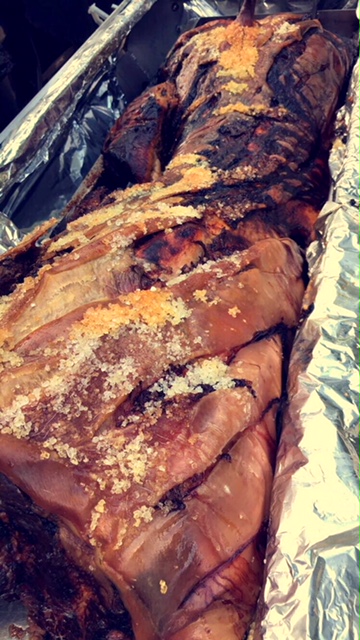 When Stuart asked Hog Roast Kimbolton to cater his sports event, he wanted to treat the competitors and spectators to that same fresh, local meat, with one of our traditional centrepiece hog roasts that we're famed for, made into amazing pigs in buns (otherwise known as hog roast rolls). Nevertheless, Stuart also knew that some of the guests would need an alternative dish, as there would be both vegetarians present, and he also wanted us to provide some additional food too, so we worked together with him to create the perfect menu.
So for this event, we would also be making our delicious grilled veggie skewers, which feature halloumi, mushrooms, tomatoes, courgette, peppers and red onion and which we serve with pitta bread and Tzatziki, and are suitable for vegetarians; plus we can always make them vegan if needed. In terms of additional food, Stuart asked us to cook piles of skin-on jacket potatoes, freshly make our own version of coleslaw and provide plenty of grated cheese and a seasonal green leaf salad.
Our Hog Roast Kimbolton chef and catering assistants arrived at the venue early in the morning yesterday, armed with lots of fresh ingredients and our hog roasting machine, and before long, we have a large pig sizzling away in its own juices for several hours, before we would carve off piles of salty crackling and slivers of tender and moist meat, in order to fill fresh bread rolls and wraps with both and top with apple sauce and stuffing. Together with the skewers, jackets and cold sides, we created a great feast and satisfied everyone's hunger with lovely, fresh, homemade food.