The time-honoured tradition of hog roasting is popular with many of our customers, and that includes our corporate hospitality customers who may want the spectacle of a Hog Roast Melbourn to impress their clients or treat their employees. It's often essential to book well in advance when you know the date of your event, as we get very busy with all kinds of occasions, from weddings to birthdays, as well as lots of other businesses wanting a hog or spit roast on a particular day.
Allen is a fairly new customer of ours, having enjoyed a sumptuous feast that we provided for one of his business colleagues' corporate events last summer. He decided that when he needed a party catering in the future, that Hog Roast Melbourn rolls (our 'pigs in buns') would be the ideal way to feed a few dozen guests on a budget, but at the same time be something that no one could forget.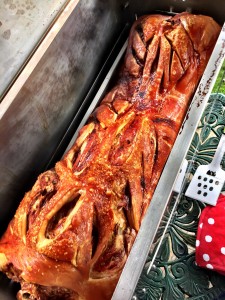 When you enjoy our hog roast rolls at your event, we roast the pig from scratch at your venue of choice, and then once perfectly cooked (after several hours of sizzling away in its own juices), we pile lovely pieces of tender meat and crispy bits of crackling into freshly floured bread rolls and top with homemade stuffing and homemade apple sauce. We also provide condiments and not forgetting plenty of serviettes, as you don't want to be talking business with ketchup on your tie!
On the day of Allen's event, which he created to attract new clients to his business, our team arrived bright and early in the morning, in order to set up the hog roast machine and prepare the large hog to be cooked. After scoring the meat and adding water to keep it from drying out and salt to turn the skin into crackling, we just had to turn the machine on and keep an eye on it.
By lunchtime, the hog was perfectly cooked and while it rested for half an hour, we got on with buttering the bread rolls and dishing up the sauces and stuffing. We had so many compliments from Allen and his employees and guests, as well as future bookings, which is always testament to a great job done by a proud team at Hog Roast Melbourn.