Festivals are one of the many things that define a British summer. Whether it is thousands of people stood in a muddy field listening to live music or a local community gathering with local music and craft stalls. Whatever the scale and purpose of your festival, one thing is guaranteed: your guests will require some delicious food! Luckily, Hog Roast Ely have a variety of different festival-ready menus for you to choose from. Here are just one of our excellent options…
Every summer, the Waterside Community Centre organise a festival on the sports fields behind their building. The festival includes live music from local musicians, arts and crafts stalls, sports taster sessions, delicious food, and more! This year the festival perfectly aligned with a week of glorious sun, which meant that the turnout was even larger than expected! The festival hires a few catering options, including a chocolate fountain, a bakery stall, and Hog Roast Ely! For the catering, we were asked to provide our slow-roasted pig menu, since it is incredibly popular and can be produced on a large scale.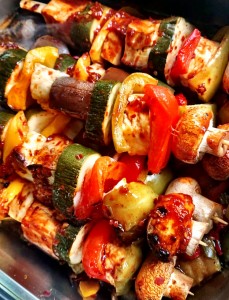 On the day of the festival, we began to prepare our hogs, making sure that they were slow-roasted to perfection. The turnout for the event was expected to be around 300 guests, so we ensured we had plenty of food to go around. Alongside the hog, we also prepared a meat-free option, which consisted of vegetable and halloumi skewers served with a selection of tasty dips. Both main courses were served with a selection of sides, including home style chips, stuffing, and homemade applesauce.
This was the perfect menu to choose for festival catering since the look and smell of our hog enticed many new customers to see what we had to offer! It was the perfect addition to a lovely day spent in the sunshine.
This is just one of the many Hog Roast Ely menus that taste excellent on a large scale. We have a menu to suit any event and a dish for every guest to enjoy. Simply get in touch with our team today to discuss your festival catering needs, and we can begin to plan your perfect package.