Team training days are vital for corporate success, whether you are recruiting a new wave of staff or broadening the knowledge of your current employees. While they are very important, often they are not the most fun or exciting of days, since they are full of learning and new information. To combat this, Hog Roast Grantchester can provide delicious lunch catering to boost the morale of your staff and to keep them motivated to learn and work.
Pink Flamingo is a boutique fashion brand, established in London in 2012. Over the years they have grown in popularity, opening 3 more stores around the country. At the start of 2021 they opened a new store in Manchester, so decided to host a team training day to equip their new staff with the knowledge they need to run a successful boutique! Since the event was running from 9 am-5 pm, they hired Hog Roast Grantchester to cater for the day.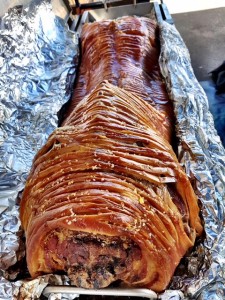 On the day of the event, our team arrived around 7 hours before the lunch break was scheduled to take place, giving us ample time to cook and prepare the dishes. The menu selected was our slow-roasted pig menu, which consists of roasted pork served in a selection of fresh bread rolls and wraps. This was the perfect menu for the event since it is simple yet nutritious and full of flavour. While the pig was slow-roasted, the new employees were partaking in their training day, learning the ins and outs of running a Pink Flamingo store.
Once it was lunchtime, we presented our delicious dishes to the guests. The rolls were accompanied by sage and onion stuffing, homemade applesauce and crispy crackling- creating a sensational flavour combination. The rolls were the perfect size for a lunchtime meal since they could be served and enjoyed in the 1 hour lunch break and fuelled the employees to continue their training into the afternoon.
To hire Hog Roast Grantchester for your team training day, simply let us know your event size, location, and date and we can begin to plan your perfect menu.