You may well know Hog Roast Wisbech for the amazing hog roasts that we have spent years perfecting – after all, it's our signature dish that's even a part of our name! But did you know that we can offer so much more too? When it comes to catering for the masses, whether for an event with hundreds of guests or a soirée for just a handful of people, we understand full well that personal tastes and special diets need to be factored in, and that's why we offer all kinds of food, made from fresh, local, high-quality ingredients.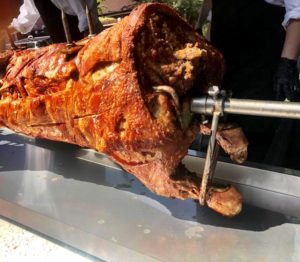 You may refer a spit-roasted meat served hot at your party, like turkey, chicken, lamb or beef, or perhaps a barbecue with tasty ribs, sausages and burgers. We can do either or even both if you prefer. We can serve canapés, create a menu with multiple courses or make additional sides, whether hot or cold. You also may need us to provide a homemade dish for vegetarian, vegan, plant-based or gluten-free guests, and we have lots of options for these guests and for other diets – just let us know in advance and we will ensure that everyone can enjoy our lovely food on the day.
When our long-term customer Bill booked Hog Roast Wisbech for his 65th birthday party, he knew that he wanted our scrumptious pigs in buns served to him and most of his thirty-five guests, but he also needed a gluten-free option for his wife Nancy who had found out about her intolerance only recently. Nancy had said how disappointed she was that she wouldn't be able to enjoy our hog roast rolls like everyone else, like she had done in the past, so when we told Bill that she could still enjoy them, just with the gluten-free bread rolls that we'd take along on the day, she was thrilled to say the least.
On the day of Bill's birthday, Hog Roast Wisbech cooked up a storm for the birthday boy, as well as for his wife Nancy with her special rolls filled with the same amazing ingredients as everyone else, and the rest of the guests also devoured our famous pigs in buns with great relish, and most headed back to us for seconds or more.