The summer months have kept us busy here at hog roast Warboys but you may be surprised to know that we're actually busy with bookings all year-round. Ever had a hog or spit roast while it's raining or even snowing? We can cater for your event no matter the weather, as our gazebos can keep the meat dry and our marquee tents can keep the guests dry, and we can even cook indoors if needed, as long as the event space is large and well-ventilated.
For Kevin's 50th birthday party at the weekend, it was forecast to rain and rain it did – in buckets. We were well prepared with one of our marquee tents, however, and the bonus for the guests was that the tent was just full of the most gorgeous roasted pork smells by the time it was cooked to perfection.
Kevin had asked us to provide our yummy hog roast Warboys rolls for his 50 guests (50 guests for his 50th – very apt!) as well as some simple garden-fresh salads. We cook your hog at your venue from scratch, so when we arrived at the village hall gardens to erect our marquee and set up our equipment, it was hours before the actual food service. Once our team had set the tent up, it was time for me to prepare the pig for its roasting.
To prep this hog, I scored it all over, then covered it in water to help keep it moist. Then to make that lovely crackling, it was a case of smothering the skin with lots of salt. It really is as easy it as sounds, and our own hog roast machines make the cooking process easy, too – just turn it on and keep an eye on it.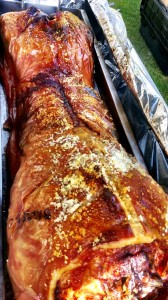 A few hours later and the hog was crispy and golden on the outside and tender and juicy on the inside, and just needed to rest while we arranged the salads, dished up the sauces and stuffing and sliced the bread rolls. Many happy guests returned for seconds or more and by the end of the night, the large hog had been stripped of its meat, still with plenty of pieces left for the guests to go back to later. We cleared away and left Kevin and his guests to dance the night away, oblivious to the pouring rain.