While our dreams of owning a classic motor might be mildly impractical for our everyday lives, those wishing to live out their fantasy for a short time are always welcome to do so at one popular event which is renowned for drawing crowds from across the country – the classic car show! But no classic car show would be complete without some mouth-watering grub to dig into while we fantasise about driving our dream vintage vehicles down an open highway, am I right? In preparation for last weekend's meet, event organiser Dave got in touch with the Hog Roast Huntingdon customer service team about laying out one of our famous spreads for the day, and with motors from around the globe scheduled to make an appearance, the team were more than happy to help.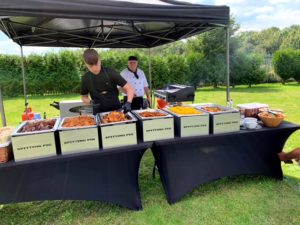 Drawing inspiration from the old American cars which dominate the scene, the Hog Roast Huntingdon catering team recommended our signature southern slow roast menu which is derived from popular southern comfort foods and includes a copious amount of disposable crockery and cutlery, one of our experienced chefs and a hands-on catering crew. When the big day finally rolled around, the team made their way to the venue bright and early where they quickly pitched the gazebos on the manicured field before sorting out the menu. Cooking fast and furiously they rustled up a tantalising selection of whole slow roasted pig, BBQ pork butt, Texan 24 hour beef brisket and fall off the bone Louisiana sticky pork ribs; which were served alongside Memphis style crunchy coleslaw, buttery corn cobettes, colourful salads, sweet potato wedges and a vegetarian alternative of grilled vegetable and haloumi skewers.
As the engines revved and the 300-and-something guests strolled amongst the freshly polished bonnets, the Hog Roast Huntingdon gang served up our yummy menu which quickly became as popular as the cars themselves! After being presented with the catering crew's hard work, Dave was impressed to say the least, and he has since been in touch to thank the team for pulling out all the stops and making the car show an unforgettable occasion for everyone involved.