Now that the summer holidays are over and the kids are back at school, that doesn't mean that the summer season is over yet. Technically, it's still summer, as autumn is yet to begin, and while we're still enjoying some warm weather, we're also still busy with our popular catering services for outdoor events. But did you know that we can actually cater your event outside even in bad weather? If it's due to pour down on your special day, our marquees can shelter your guests and we can even cook a hog or spit roast or barbecue food inside the tent. Just imagine being inside a tent while a delicious hog roast Cambourne is cooking away – the smells are amazing!
Julie and Brad booked us for a hog roast Cambourne for their intimate wedding reception and they recently called us to say that it was now expected to be very wet and windy on the day. They were upset that they would have to cancel our catering services at the last minute, so when we told them we could still cater the event, they were more than a little relieved.
We arrived at the venue, the couple's friends' large back garden, early on Saturday. The ceremony was in the morning and the wedding party would be heading back to the house for the marquee reception for a lunchtime hog roast Cambourne, and it takes a few hours to cook. In addition to hog roast rolls, the couple asked us to freshly prepare some salads and we also had some baking potatoes for any of the guests who didn't want to eat pork.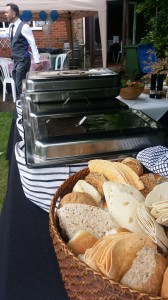 When the wedding party arrived back at the house, with Julie and Brad now as husband and wife, the meat was already resting while we put together everything else. Our serving table had our homemade stuffing and apple sauce and lots of condiments, plus sliced bread rolls and plenty of salad leaves and cherry tomatoes. The baked potatoes were perfectly cooked and the gorgeous hog just needed to be sliced. While the guests relaxed and were served welcome drinks by our team, I carved into the hog and filled trays with the salty crackling and juicy pork slices.