Our party catering service can make your event go with a bang, and fireworks can often help with that, too! For an 18th birthday party that we catered at the weekend, at the end of the night there were plenty of fireworks that reminded me of Guy Fawkes Night over the years, even though it's way before November. There were Roman Candles, Catherine Wheels, and of course plenty of good old Sparklers. The birthday boy, Gerry, is off travelling before November hits, so wanted to enjoy a fireworks-themed birthday party with his friends and family as November 5th is his favourite day of the year.
Gerry's parents asked us to provide our tasty hog roast Ely for the occassion. They wanted the hog roast roll menu for the party, which is a slow-roasted pig cooked fresh in front of you for several hours from scratch, and the resulting pork slices and crackling crammed into fresh bread rolls, together with our lovely stuffing and apple sauce. We named them 'pigs in buns' for obvious reasons, and once Gerry knew he was having a hog roast Ely at his birthday celebration, he bought some 'Flying Pigs' rocket fireworks!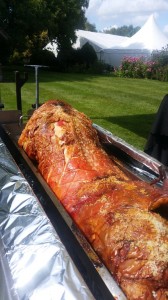 On the day of the event, we set up our equipment in the family home gardens and got down to preparing and roasting the hog. There were around 35 guests expected, and even a smallish hog can take a few hours to cook through. As the guests arrived, there were plenty of admiring glances towards our hog roast spectacle and several guests asked when it would be ready. Once the meat was cooked beautifully, it needed a bit of a rest while we sorted out the sauces, bread rolls and stuffing and before the party got too impatient, we announced that we were carving and got a round of applause. Gerry was first in line, taking a break from setting off his array of fireworks, and after one bite, he thanked us for the best food catering he'd ever had.
After the hog roast Ely had been served and tummies were full, Gerry set off his Flying Pigs. As the rockets launched, the silver pig tails spun round and round and then they burst into colour in the sky. It seems pigs really can fly sometimes!