Are you planning a wedding and want catering that will set your day apart and be remembered for years to come? Then look no further than Hog Roast Chatteris. Our team of expert caterers work with you to create the perfect day you had always imagined. We can cater indoors or outdoors in any weather conditions and are flexible enough to be able to cater for any number of guests with a wide range of wedding menus.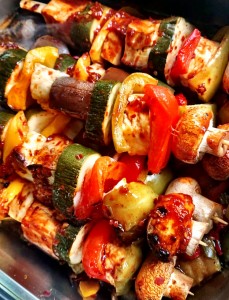 Danielle and Kai were on the search for a more laid-back wedding caterer to provide a three-course meal for their one hundred guests on their big day. When they got in touch with us at Hog Roast Chatteris they told us they simply 'fell in love' with our style of catering. The fact that we are able to roast everything on site and on the day was something important to them and for Kai he had always wanted to have a hog roast so to have one for his wedding centre piece was an offer he couldn't refuse!
When we arrived at the venue in the early hours of the morning we were taken aback. Danielle and Kai had hired out a farm for the day and it had been so beautifully decorated with fairy lights and flower garlands it was hard to believe that this was a working farm at the same time. For the guests we set to work preparing Hog Roast Chatteris's signature slow roasted hog that we carefully score and apply salt to ensure nothing but perfect crackling every time. Along with this we prepared plenty of potatoes that we smother in a garlic butter. There were vegetarian options galore too, with halloumi and vegetable kebabs and a homemade vegetable tart so there really was something for everyone.
We ended a lovely day by discreetly packing away and leaving the guests and the happy couple to enjoy the night…