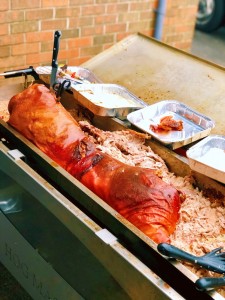 To keep kids occupied in the summer months many parents send their children to summer camps or clubs where they can learn sports, crafts and meet new friends. With the end of the summer approaching many of these clubs now have 'graduation' events for the youngsters to wrap up the summer and have one last fun event with all their new friends. Last Saturday Hog Roast Soham was asked to cater for one of these such events when the kids were having a sports day.
We arrived on site in the morning just as the kids were arriving, all excited and full of beans to take part in the various sports from javelin and running to trampolining and shot putt. It was our task at Hog Roast Soham to keep these young budding athletes and their families fed throughout the day which was set to be a mammoth task with one hundred pupils plus their families. We quickly set up and got a hog slowly roasting away whilst the first events kicked off. For the kids we knew they would be craving burgers after all that running around so we prepared plenty of our chefs homemade patties and made sure to prepare a fresh salad to go with them and get some fruit and veg into the kids. For the staff and parents we had the slow roasted hog which was beginning to drum up a crowd just from the delicious aroma that wafted around the field. But we had to tell the spectators to wait until the end of the competition as that was serve time!
With the final race on we started to carve the meat. The last race was the relay race and family members eagerly waited on the side lines to see their children cross the finish line. With everyone now tired and hungry we began to serve much to the delight of the parents who had been driven crazy all day by the sight and smell of our Hog Roast Soham!