It was a dog lover's delight this week, as the team at Hog Roast Soham found themselves the host of a large convention that is specifically for big breeds of dogs. The Big-dog convention is held annually with the intention of tackling some of the stigmas that can be held against big dogs. Staffordshire Bull Terriers for example, are one breed that gets a particularly bad press thanks to a few irresponsible owners not training them properly. The convention hopes to educate owners on the dangers and responsibilities of owning a big dog, as well as providing people and dogs alike to come and make new friends.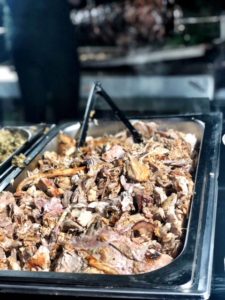 We were contacted by Alexander, a dog lover who is also a vet. We spoke with him about the particulars of his event. There was expected to be over 500 people attending the convention, most of whom would be expected to bring a pet. Whilst there are no foods we can prepare that would be suitable specifically for a dog's diet, we needed to make sure the food we did provide would be easy enough to eat on the move, with a dog pulling hard at the lead. We therefore opted for Pigs in Buns, a Hog Roast served in crusty bread rolls with a selection of sauces to choose from.
When the day of the event arrived, the team from Hog Roast Soham arrived with plenty of time to spare to allow enough time for the slow cooking process. First our chef butchered the hog and placed it on the machine for roasting, before slicing the bread rolls and laying out the sauces onto a serving table. Several hours later it was serving time and the hungry guests formed a queue with their excitable dogs puling at the leads. We served our Pigs in Buns onto high quality disposable plates so they could be eaten on the move and discarded with ease.
The big dog convention was a huge success with many dog owners returning home, armed with knowledge on how to give their four legged friend the best possible time in life. With nothing else to do our team from Hog Roast Soham tidied away their mess discreetly and disposed of any waste offsite.