So many people have had to put their plans on hold over the past few months, with parties, family get-togethers and social gathering being prohibited. This was the case for Alan, who should have been celebrating his 60th birthday in April with all his nearest and dearest. The restrictions in place meant his wife Brenda couldn't throw his the big lavish party she was planning at the time and when restrictions began to be lifted she was determined to give him a belated 60th birthday party he would never forget! Being unable to follow her original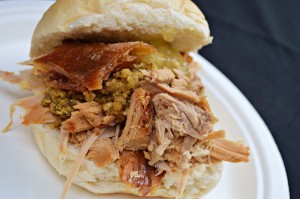 plan due to limitations on party sizes, Brenda knew she had to think outside the box. As roast pork had always been a firm favourite of her husband, she decided she would treat him and a few of their close family members to the ultimate pork feast by hiring a hog roast machine! Even though she was a whizz with Sunday dinners, Brenda was a bit nervous about undertaking this culinary challenge, but she breathed a huge sigh of relief after contacting us here at Hog Roast Beck Row when we reassured her how user-friendly our machines are. As she was a hog roast beginner, we advised her that our super-reliable and easy to use Hogmaster would be the ideal machine to meets her needs. Not only does it produce perfect pork and the crispiest crackling with minimal preparation required, it also adds a bit of theatre to the occasion thanks to its heatproof glass panel that allows everyone to watch as the meat cooks.
The Hog Roast Beck Row team delivered and set up the machine for Brenda in her garden, following social distancing measure of course, and assured her that our stringent team had ensured our Hogmaster was 100 per cent safe, hygienic and ready to be used! Despite her initial reservations, Brenda rustled up a fabulous hog roast meal for Alan and their family. It may not have been the big bash Brenda envisaged, but Alan had a great time and thanks to the Hogmaster, Brenda managed to impress all of their guests with the quality of the pork that she provided! Brenda was so pleased that she had made the decision to hire the Hogmaster and she couldn't wait to tell us here as Hog Roast Beck Row how thrilled she was with the results!