It's great when we get the opportunity to get back to our roots and cater for an event that truly captures the traditional essence of hog roast cooking, which is exactly what we did last weekend when we had the privilege of providing the food for a local folk festival.
The organisers of the event wanted Hog Roast St Day to play a prominent role in the proceedings, as they felt that one of our outdoor feasts would be the ideal culinary companion to the other local traditions being celebrated that day. We whole-heartedly agreed with them that burgers and hot dogs just weren't going to do it! Indeed, with our proud age-old cooking methods and the exclusive use of only the freshest local produce, there could not be a better way of bringing people together to enjoy traditional music, celebrate local customs and feel closer to nature.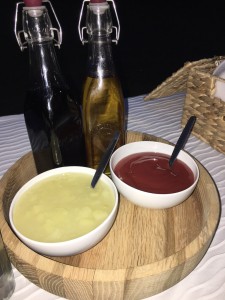 In keeping with the traditional theme, we were asked to prepare one of our classic hog roast menus: slow cooked pork with crispy crackling, served with a silky-smooth dollop of our homemade apple sauce. The event organisers loved how we only use the highest quality locally-reared pork and prepare everything fresh on-site, which is exactly what they wanted from their caterers. We also impressed them budget-wise, when we told them how many people one of our delicious and cost-effective hog roasts can feed! Our highly experienced caterers are just as efficient as our hog roast machines when it comes to feeding a large volume of people. And sure enough, when the folk fans flocked towards us, as eager to taste our traditional hog roast as they were to soak up the other sights and sounds of the festival, the Hog Roast St Day team were not remotely fazed or flustered. We provide each person with the same friendly, professional service, whether we are feeding 20 people or 300!
The aroma of our slow roasted meat was the perfect accompaniment to the music and merriment of the folk festival and everyone loved it. Hog Roast St Day had a splendid day working side by side all of the folk musicians and local artisans, and we are just as proud of our traditions and craftsmanship as they are of theirs.