With all kinds of delicious dishes, including mains, starters, desserts and sides, and not just the hog roasts that we're known for, Hog Roast March can create a feast for all the senses for you and your guests. Regardless of the type of party that you might be organising, and whether it's a private function or a corporate one, a large event or a small gathering, a formal or informal occasion, we have plenty on offer to suit your wants and needs, and that includes options for special diets. When you're hosting any kind of party, you want to make sure that everyone invited gets to enjoy the food that is served, and not just the majority of guests, and as long as we have advance notice, we can help you to devise the menu of your dreams that does just that.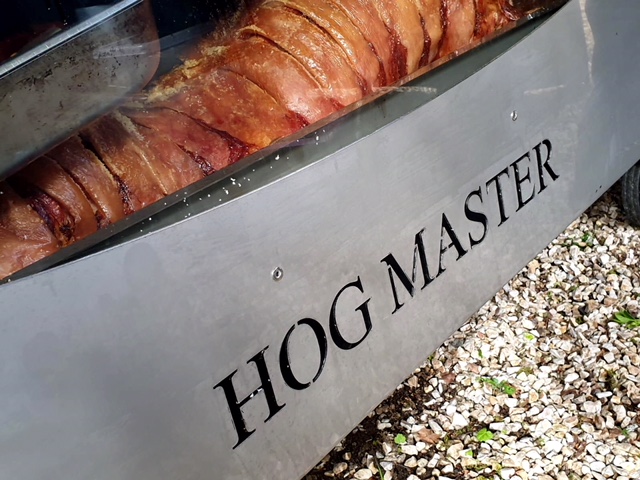 When Benjamin asked Hog Roast March to provide the food for his private party at home in his back garden, he knew he wanted a hog roast centrepiece to wow most of his guests with our deliciously mouthwatering pigs in buns but he also needed to ensure that his mum, who has a gluten intolerance, could be catered for as well. When we told him that she could eat our pigs in buns too, and that we'd only need to bring along suitable bread rolls to make that happen, Benjamin was thrilled and couldn't wait to let her know.
On the morning of the party, our Hog Roast March chef and catering assistants arrived and set up our equipment before preparing the meat to be roasted. Service was due to start several hours later but we always need plenty of time for a hog to cook through and through, inside and out, slowly but surely, as you can't rush it. After scoring the meat all over and adding water and salt, it was soon sizzling away outside in the garden, protected from the elements by our trusty gazebo.
By lunchtime, we had a perfectly cooked pig resting before being carved up, and we got the other pigs in buns ingredients ready, including our own apple sauce and stuffing, fresh bread rolls and wraps, and condiments to suit everyone, and soon enough, Benjamin and his guests were feasting on our truly tasty food.