We catered for our first wedding of the year at the weekend and it was, as always, a huge success! Catering in a castle of all places and the couple had hired out the rooms for the weekend we created a Hog Roast Girton banquet for the 200 plus guests.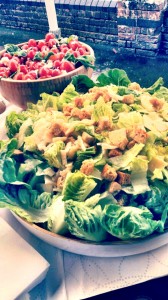 We arrived early as we had lots to do. We placed 2 pigs on the machines and then set about setting the tables we covered them in white linen and our finest crockery and cutlery we added lots of little extras to make the tables that bit more special. Meanwhile our chefs were busy creating dips, sauces and dressings and making a huge assortment they then started to chop and slice all the fresh salad we had brought and placed it in huge glass bowls the salads are a work of art!
Our chefs spend a lot of time making the salads look too good to eat! Our chefs were tending the pork and scoring the skin to create some mouth-watering crackling, which was specifically requested by the bride and groom after a few hours the air was filled with the aroma of wonderful pork tables all set and food all prepared as the bride and groom entered the room the guests followed and we served we made sure the wedding party had plenty to eat and we were getting compliments left right and centre for Hog Roast Girton!
The bride and groom said that the Hog Roast Girton food was 'the icing on the cake" and we had made the day spectacular we were very happy to hear that as we all put in one hundred and ten percent in all we do and weddings especially are our favourite events we love to be challenged and the more the merrier we always say. We left a bundle of cards as we left and when we turned around we could see lots of guests taking them and some stopped us on the way out saying they would be in touch. As we headed home we felt such satisfaction of another job successfully completed and a great day to remember as our first wedding of the year.