The plucky Hog Roast Sawtry team found ourselves catering in the middle of a battlefield recently, which proves beyond any doubt that we really can cook anywhere! It wasn't the first time we had been there either- for the third year running we had been asked to provide one of our traditional hog roasts for the annual re-enactment of a famous local battle! Whereas once it was the scene of bloodshed, today it is all in good fun and a way for local history buffs to make sure people never forget their heritage. The re-enactment society first contacted us 3 years ago because they wanted to provide food for all of the participants that was in keeping with the historical authenticity of the event, and they could think of nothing better than one of our classic hog roasts! As with all of our regular clients, once they had tasted our food, they keep coming back for more! So once again we found ourselves caught between two warring sides, as we prepared the food for the post-battle party amid the clashing of swords against shields and cannons being fired!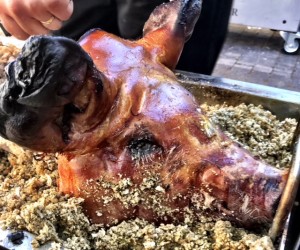 It was all very exciting, but here at Hog Roast Sawtry we are pros at cooking in any sort of environment, and even if we have 'dead' bodies piling up around us at an alarming rate, we still stay 100% focused on the task at hand! As the battle came to an end and the victors were announced, the chef was brandishing his own sabre in readiness to carve the meat! For the third year running the participants were delighted with the quality of our locally-sourced pork and they love eating food prepared using the same cooking method that would have been popular during the time their battle was originally fought. Hog roasting's long tradition in our culinary history always makes it popular with events that pay homage to the past, and indeed it would not have looked right to see a group of men dressed in armour standing in the middle of a field eating egg sandwiches and sausages on sticks!
Hog Roast Sawtry had another great day cooking on the battlefield and we're really glad our traditional cooking methods gave the event that extra element of historical accuracy!