The Hog Roast March team were up at the crack of dawn last Sunday, en route to one of our regular gigs of catering for a local car boot sale! We have a long list of regular clients who keep coming back to us time and time again for providing food at large events. As with all of our other clients, the car boot sale organisers love us because we can provide great quality food for a lot of people at a very reasonable price, and even if we don't know exactly how many people we will be feeding, there will always be plenty to go around!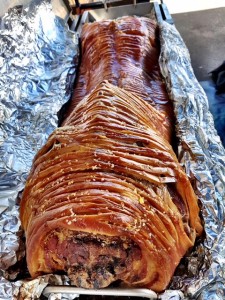 The car boot is always an incredibly popular and busy event with people coming from all over the local area to grab a bargain and enjoy a freshly-made hog roast butty, and we have started seeing some familiar faces month after month who can't seem to stay away from our serving table! Hog Roast March's food is just a popular with the stallholders and they greet us like old friends when we arrive and set up our hog roast machine next to their stalls! They all tell us that our slow-roasted pork makes it worth getting up at 4am on a Sunday and standing in the rain all day in the hope of making a few sales! The weather as not a problem last Sunday however, as the sunny skies seemed to attract even more people than usual to the car boot sale.
Our hog roast was ready in time for lunch and the buyers and sellers wasted no time in forming a cue in eager anticipation of tucking into the food that that had become an important part of their Sunday car boot ritual! We were inundated with orders, but no matter how busy we are, we always treat every customer as an individual and serve everyone efficiently, without ever making our service seem rushed or like a conveyor belt. Here at Hog Roast March we are in our element in a busy environment and love the sight of a large crowd of people tucking into our delicious slow-roasted meat!