Barbeques are a great way to provide catering for large numbers of guests, as the food tastes delicious and can be prepared efficiently. Hog Roast Kennett have a delicious barbeque menu that is often popular at this time of year, as nothing tastes better in the sunshine than smoky, grilled dishes such as these…
Earlier in April, Hog Roast Kennett was hired to provide catering for a family barbeque that was taking place on a private farmyard. The barbeque was for the whole extended family and was set to be a great afternoon of food and catching up. So that everyone could enjoy the event, Hog Roast Kennett was hired to provide the catering, as we can manage any event from start to finish when it comes to serving your guests. Our Gourmet BBQ menu is ideal for family gatherings as there are many different dishes to choose from, including something for guests of all ages!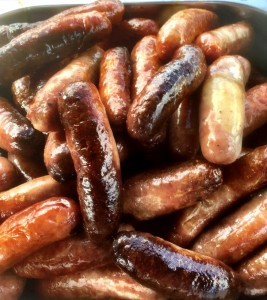 On the day of the event, the sun was shining, and Hog Roast Kennett was ready to enjoy a day of outdoor catering. We began by setting up our station in the yard and grilling the main dishes, which included succulent sausages, juicy British beef burgers, marinated chicken kebabs, and grilled vegetable and halloumi skewers. The mains were served with fresh bread rolls and wraps, as well as a gluten-free alternative. Alongside the mains, we also served crunchy coleslaw, a selection of salad dishes, corn cobettes, sweet potato fries, and homemade chips. This variety allowed every guest to create a meal of their choice, as there were so many options to choose from. Our catering was a wonderful addition to the event and went down a treat with every guest!
Whatever style of catering you require, Hog Roast Kennett have a menu that is ideal for you. To find the right package for your event, simply let us know your party size, date, and location and we can do the rest. We hope to hear from you soon!