For many people summer is the best season to get married in. There's the expectation of good weather, brighter and longer days and everyone is in good spirits. However, autumn weddings are gaining just as much popularity. Often more people can attend as they aren't away on holiday, wedding venues aren't as booked up and the event seems a bit more intimate and has a cosy feel to it. This week Hog Roast Peterborough catered at John and Sarah's autumnal wedding and it was beautiful!
The couple had booked an old country house for their event and had decorated it with lots of autumnal decorations such as pine cones and had made centrepieces out of carved logs and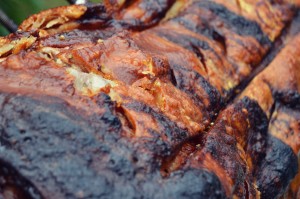 colourful leaves. They also adorned the venue with lots of candles and lights making it feel extremely romantic and the day had a very rustic feel to it due to the majority of the decorations being hand made by family members who had all clubbed in to help. Hog Roast Peterborough were the icing on the cake according to Sarah who decided a slow roasted hog would really add to the theme and provide some extra decoration to the event. She also hoped it would help to keep her guests warm as the weather was forecast to be chilly and the venue didn't have the best heating. We promised we would do our best and got set planning the menu.
The bug day arrived, and the Hog Roast Peterborough team were excited to see the venue in all its glory. When the guests arrived, and speeches had been done we got to work to serve the two hundred guests. We had prepared our traditional Hog Roast Peterborough hog with all the trimmings. Applesauce, crackling, stuffing and roasted vegetables filled people's plates, and everyone commended us for the fantastic food.
What a lovely day and best wishes to John and Sarah for the future!