Even as the nights are drawing in and the weather's getting colder, you may still want your next party or event to be an outdoor affair, and with Hog Roast Upwood, this is always an option, even in the coldest of winter. We cater in all type of weather, even when it's snowing, either inside one of our marquee tents or under our gazebo, and we offer plenty of hot options to warm your cockles. Nevertheless, we also have many cold dishes available, so one look at our menus and you're sure to find something to suit everyone you're inviting to your special occasion.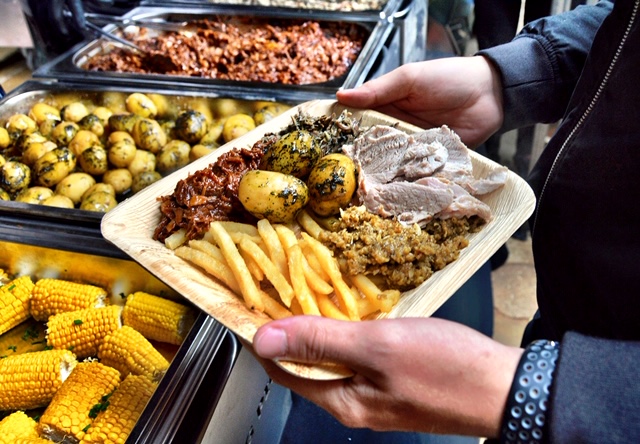 Regardless of whether you're planning a milestone birthday party, engagement celebration, work do or your wedding day meal, we want all of your guests to be able to enjoy our food. With alternative dishes to suit special diets, different meat possibilities to suit varying personal tastes and an array of different courses on offer so that you can plan your own multi-course menu, we've got you covered, whatever your wants and needs.
While sometimes that may well be a traditional centrepiece hog roast, which is what we're famous for, either to add to a plated meal alongside veg, potatoes and all the trimmings or to make pigs in buns, which is undoubtedly our most popular request, Hog Roast Upwood also offers speciality standalone menus, which may be the perfect choice instead.
Our Loaded Fries are fresh, hot chips smothered in your choice of pulled pork or brisket of beef, a spicy slaw or a zesty one, and oodles of melting cheese. On the other hand, our Southern Slow Roast gives you three marinated meats, all slow-roasted and served with special sauces, as well as four sides, and for a party that we catered over the weekend, that sounded like the perfect menu to our customer.
On Sunday, our team worked hard to create a great outdoor feast, with sticky pork ribs, chicken and lamb served together with mac and cheese, sweet potato wedges, corn cobettes and a Greek salad, and by the end of service, everything we had lovingly made had been completely devoured.