When Hog Roast Needingworth cater, our dedicated experts always ensure to have our customer's wants and their guests' needs in mind and we can even help you to create your own dream menu. While we cook a mouthwatering hog roast, we also offer plenty of options in order to satisfy all kinds of personal tastes (like alternative meaty mains), special diets (such as vegetarian skewers or dairy-free mac and cheese) or varying appetites, so whether you're thinking of a multi-course menu including welcome canapés or a simple albeit scrumptious main and nothing else, we've got you covered.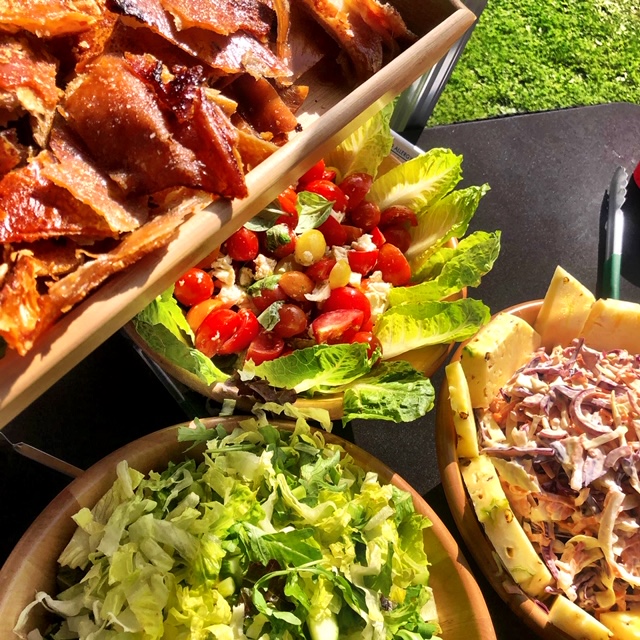 Regardless of the type of special occasion that you may be planning, whether it's your dream wedding day, a milestone birthday celebration or a huge corporate event with hundreds of guests (or even a small gathering of your loved ones in your backyard), Hog Roast Needingworth is well-versed in catering anything that you may need and with tasty, fresh, homemade dishes that will hit the spot. Instead of a hog roast, you may fancy spit-roasted or barbecued meat instead, or one of our special standalone menus, like our Loaded Fries (fresh-cooked chips smothered in meat, slaw and cheese) or our Southern Slow Roast (with no less than three marinated meats and four sides). Whatever you're thinking of, we'll make it happen.
For a corporate party that Hog Roast Needingworth catered yesterday, we were asked to cook a hog roast for the main feature, in order to make lots of yummy pigs in buns, but we also needed to make sure that the vegetarian and gluten-free guests could eat something delicious too. With our homemade mac and cheese requested for the veggies, we were asked to help decide on the main for those with a gluten intolerance, and when we told our customer that we could easily make our pigs in buns suitable just by taking along special bread rolls and wraps, they were delighted.
On the day, a hog sizzled to perfection over five hours, while we made our tasty mac and cheese from scratch and prepared the fixings for the pigs in buns (our own apple sauce and stuffing), and then finally, we had a great feast ready to be devoured.