It's been over a year, but the news we've all been waiting for has finally arrived! The roadmap out of lockdown has been laid out, meaning this summer, we'll be gladly trading our sofas for function halls and blissful outdoor venues, as we look forward to meeting with loved ones once again. So get your glad rags looked out and make a start on drawing up your guest lists, because come the 21st of June, it'll be back to business as usual for our team here at Hog Roast Earith, and we can't wait to help you celebrate all those special occasions you've missed out on!
As soon as the news was announced, several weeks ago now, many of our hog roast fanatics were hot on the phones to secure their bookings, and among them was Ellie, who's wedding day had been pushed back three times over this past year. Now, she has a whole new date to look forward to, and she has been immensely grateful to the Hog Roast Earith team for how accommodating we have been throughout the entire process.
With the nuptials now set to go-ahead in the first week of July, meaning there will be no limits on the number of guests Ellie and her fiancé, Joe, can invite, the pair have since decided to scale up their menu to include additional service options.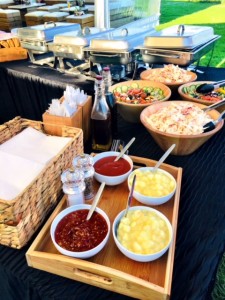 Having originally opted for our most basic tier wedding package, with a choice of spit-roasted whole English lamb or beautifully seasoned free-range chickens with butchers chipolata sausages on fresh brown bread, complete with three side salad options and a potato dish, the pair have asked that we include our gorgeously presented antipasti platters to the menu. Featuring a collection of the finest Italian cold cut meats, cheeses and homemade crusty bread, this truly tasty starter option is perfect for getting guests geared up for the main course! At the end of the meal, Hog Roast Earith will slice and dress the wedding cake as normal, with fresh English cream, ripe berries and a  summer fruit coulis, and while the guests dig in, our crew will discreetly discard the mess.
Remember, nothing is too much trouble for us, so if you have a booking you'd like to amend then simply call our team today – we're always happy to help!