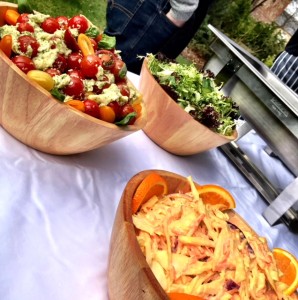 The Hog Roast Soham team met some like-minded people last Saturday when a pop up theatre group asked us to provide some top-notch outdoor grub for the after party of their first show of the season! In the same way we get out and about to bring high quality food to people in any location imaginable, this group of mobile thespians bring all the culture and ambience of a tradition indoor theatre into the great outdoors! With this in mind, we were their first and only choice to do the catering, after all, who else could provide restaurant standard food in the middle of a field following an al fresco performance of Henry V?!
We arrived at the same time to the outdoor venue as the theatre group, as we would be spending the day slow cooking the traditional hog roast and patiently preparing our fresh, zesty salads, while they set up, rehearsed and performed some Shakespeare in the sun! On one side there was soon a pop up stage that was ready for Henry's regal entrance, whilst on the other side was our pop up kitchen preparing food fit for a king! We certainly weren't two armed and hostile camps though, as the Hog Roast Soham team worked in tandem with the actors on the other side of the field!
As the outdoor audience arrived and the actors took their places, we were right on schedule with our hearty feast timed to be ready for the end of the final act. We enjoyed the swords and soliloquies as much as the audience as the field was transformed into the Battle of Agincourt, with the aid of some fantastic acting and ingenious props. As the rapturous applause was dying down, our valiant chef was equipped with his own trusty blade to carve the tender meat! The actors and audience were free to mingle as everyone flocked towards our portable catering gazebo and it was a great opportunity for the spectators to chat with the theatre members and find out more about what they do as everyone came together to tuck into Hog Roast Soham's fresh and tasty food. It was a great day for showcasing high quality outdoor theatre and equally high quality outdoor food!