If you're thinking about hiring a machine to host your own hog or spit roast, whether it's for a birthday party at home, a corporate event at your place of business or anything else you can think of, Hog Roast St Neots has got the equipment you need and at a price you may well be surprised about. We've spent years perfecting our own meaty masterpieces but we also love to show others how to do so themselves, either by training people who are interested in being caterers like us or by us showing customers how to be just like us when you rent out one of our own range of hog roast machines.
When Julia contacted us recently, she wanted to organise a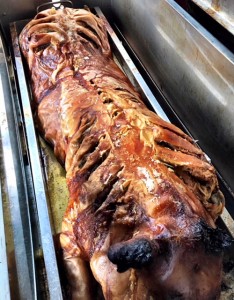 surprise for her husband Richard for their wedding anniversary. He'd talked about wanting to roast his own hog after enjoying one of ours on several occasions, so she thought he'd be pleased if we arranged for him to do so, to show him the ropes so that he could cook a hog roast for an anniversary celebration meal with their family. When you hire from us, we always show you the ropes, as we want to ensure that you're happy with the equipment before leaving you to your own devices. We have handy tips and can answer any questions you might have and we can even provide the meat if preferred, from one of our trusted suppliers that only provide the best quality animals and birds.
For Richard's surprise gift from Julia, she asked us to supply a small hog for him to roast, so a few days ago, I went along to their home, armed with a Hog Roast St Neots hog roast machine and a pig, and when Richard answered the door, he was smiling from ear to ear and couldn't wait to learn this new skill. After teaching him everything he needed and showing him just how easy it is to use our machines, I left, just as Richard got stuck into preparing the meat.
When I returned to collect the machine from Julia and Richard, they were both happy to say that his first hog roast was a resounding success and though they will still be using our Hog Roast St Neots catering services in the future, they will also definitely be hiring from us for more DIY roasts too.