If you've never hired a hog roast machine before but you'd like to try out this amazing style of cooking, Hog Roast Ickleton can help you not only with top-notch equipment that ensures delicious food each and every time but also with learning how to use the machine – even though it's so easy to do. When one of our dedicated chefs drops the machine off at your chosen venue (as drop-off and collection are both included in the price), they also walk you through the ins and outs of our hog roaster and how to get the best out of it (and this is included in the price too!)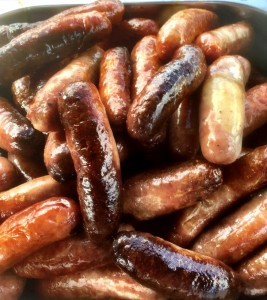 In no time at all, with a rental from Hog Roast Ickleton, you'll learn how to cook succulent meat and not only a hog, as our equipment can cook so much more that we're sure you'll be surprised. While our stainless steel wonders can cook a mean hog roast, we also have attachments so that you can spit-roast your preferred meat, like chicken, turkey, lamb or beef, as well as to barbecue, such as burgers, sausages, spare ribs and kebabs. You can also cook inside one of our hog roast machines, just like you would a conventional oven, which is particularly handy if you need to cook a meal all in one go, as your meat sizzles atop while your potatoes and vegetables cook to perfection inside at the same time.
Whether you're a professional caterer yourself wanting to cook for your own customers or you'd like to hire a machine to cook at home for family or friends, renting from us so you can DIY is always a great idea. You may even be thinking of purchasing your own machine from us and if so, a hire can show you exactly how simple it is to operate our equipment, and of course, the proof is the pudding, where you'll see how our machines cook food that simply tastes gorgeous, each and every time.
For your machine renal, call Hog Roast Ickleton today and one of our talented chefs will show you what you've been missing out on until now!