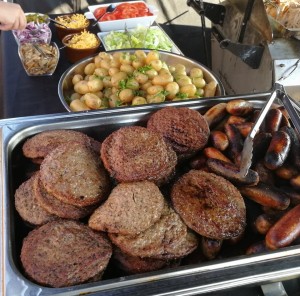 Hog Roast Soham, famous for cooking up delicious hog roasts with super tasty crispy crackling but don't be fooled that it's all we offer. We actually offer a full range of meat choices to suit any taste bud and provide that variety of flavours. The events we cover are so diverse, from weddings, birthdays, christenings and even corporate parties which is why our menus are just as equally diverse. Including canapes, drinks receptions all the side dishes you could imagine and even desserts to top everything off! You can be sure that at Hog Roast Soham we have everything that you are looking for you provide the best party catering.
Michelle was overwhelmed with our menu choices when she contacted us and was truly spoilt for choice! After much deliberation she opted for our gourmet BBQ menu, a huge step up from your typical garden party BBQ that you leave a relative in charge of! For Michelle's party we put on a great spread for her guests and included all the ingredients her guests would need to build the ultimate burger or hot dog! We also provided meat and vegetarian skewers marinated in delicious flavours and signature sauces. Michelle wanted to make sure there was something for everyone so even wanted to include corn on the cob, jacket potatoes and baby new potatoes.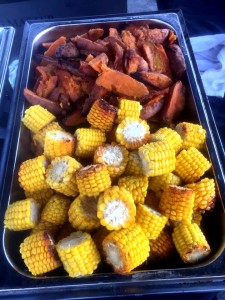 It was definitely a fantastic buffet and by far the best that Michelle and her guests had seen before! She couldn't have been happier with what we provided but with so much food to choose from the guests were spoilt and couldn't decide what to have, and desperately searching for room to squeeze in a little bit more of the delicious food in! It was a great compliment to us at Hog Roast Soham that the guests left so full and with such lovely feedback from the host it was an afternoon well spent for us! Michelle had definitely over catered for her guests as she said it was better than way than not having enough so her family were enjoying the food for another few days that we left behind for her.