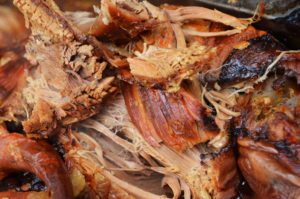 If you want to host a party, but are a bit concerned about how you are going to feed your guests, you can stop worrying. You are definitely in the right place. The Hog Roast Soham team is here to help. We have the know-how to provide fantastic food for any size wedding, corporate event or party and do so for a really good price.
The choice is yours
Naturally, we like cooking hog roasts. The meat tastes great and most people love eating it stuffed into a soft roll with apple sauce. However, we know that people like to eat other foods too, which is why, over the years, we have added to our range.
If you prefer, we can provide you with a cold buffet, carvery or barbecue. In fact, for big events like a product launch or a huge family wedding, we can potentially provide you with a combination of all of these styles of food.
The sight of a row of whole turkeys or chickens looks just as spectacular as a full hog turning on a spit does. Importantly, the meat tastes just as good. Serving it with a selection of our finger foods, desserts and vegetable dishes is a really easy way to put together a feast your guests will love.
Waiter service included in the deal
If you want, the Hog Roast Soham team can serve your guests at their tables. This is a great option for a wedding or more formal event like an award dinner.
 Like to find out more about our delicious Hog Roast Catering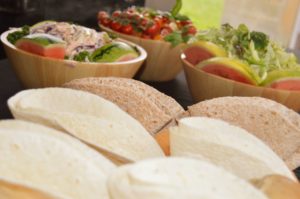 We're available to help you with any enquiries you may have regarding our Hog Roast services. Whether you're planning a party around Soham, or even a wedding or a corporate event.
We're sure to be able to provide you with a top notch service. So get in touch today and one of the friendly team will talk you through all of the available options.