If you are looking for Hog Roast catering in Peterborough, you have found the right company. We have provided tasty celebratory food for every kind of event you can imagine, and would really welcome the chance to do the same for you.
You choose the food that is served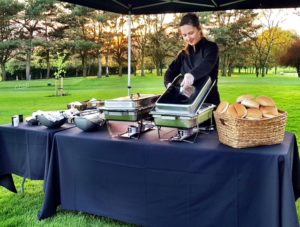 Naturally, a lot of the parties and events we cater for involve us supplying a traditional hog roast. For a corporate event, wedding or something like your village bonfire night it really is the perfect option. It can be served in rolls, which means there is no need for knives and forks and, of course, any spit roasted meat tastes wonderful.
However, we offer far more than just traditional hog roasts. Over the years, the Hog Roast Peterborough chefs have developed a range of other tasty party foods.
We can just as easily cook you a huge barbecue or provide you with a buffet table groaning with finger foods, desserts, salads and other side dishes. Our carvery service is also very popular.
All size events catered for
The way we work means that we can provide a range of party foods for virtually any kind of party or event. For a small family get together a simple barbecue or a nice spit roasted joint of meat can be served with a selection of side dishes. Whereas, for a huge wedding or large corporate event a couple of whole hogs, carved and served at the table with potatoes, gravy and steamed vegetables would be a far better option.
 Like to learn more about our service, Get in touch today
We're available to help you with any enquiries you may have regarding our Hog Roast services. Whether you're planning a party around Peterborough, or even a wedding or a corporate event.
We're sure to be able to provide you with a top notch service. So get in touch today and one of the friendly team will talk you through all of the available options.