If you are interested in hosting a Hog Roast in March, we would really like to hear from you. For many years, we have been providing this very popular party food to people in the area.
Experienced hog roast chefs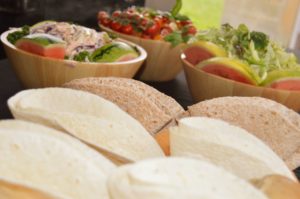 Our chefs take a real pride in what they do. They really enjoy cooking succulent spit roasted meats. It does not matter whether you order a traditional hog, whole turkeys, chickens or joints of pork, beef and lamb from us; you know it will all be cooked perfectly.
There really is nothing nicer than the succulent, aromatic meat that this style of cooking produces. It tastes wonderful whether it is pulled from the bone and served with a nice sauce in a roll, or carved into slices and served as part of a traditional hot meal.
A great range of celebratory food
At Hog Roast March we genuinely believe that you, the customer, is always right. You know your guests far better than we do. Therefore, you know what food they will enjoy eating. For this reason, we offer far more than just spit roasted meats. As you will see from our menus you can also order a barbecue feast from us, or a carvery style roast.
Our aim is to cater for all kinds of events. Big or small, it really does not matter because the Hog Roast March team has the experience to handle it all. So, we look forward to hearing from you the next time you want to feed guests at a wedding, corporate event, summer party, barn dance or community event.
Ready to find out more about our Tasty Hog Roast Catering
We're available to help you with any enquiries you may have regarding our Hog Roast services. Whether you're planning a party around Cambridge, or even a wedding or a corporate event.
We're sure to be able to provide you with a top notch service. So get in touch today and one of the friendly team will talk you through all of the available options.