If you want some great food in a picturesque setting for any occasion, the Hog Roast Madingley team have the passion and catering expertise to deliver it. We are the premier hog roast company in the Madingley area, and the quality of our slow roasted pork is second to none. We only ever source our meat from ethical producers, and we combine the classic technique of slow roasting with our own advanced cooking equipment, in order to produce mouth-watering results every time. We also have the most experienced hog roast chefs in the business who draw upon their vast knowledge and love for this style of cooking to treat our diners to irresistibly succulent and flavoursome meat at every event we cater for. We always cook our meat on-site regardless of whether we are doing large-scale outdoor catering or cooking for a smaller number of people at a private engagement. We also make all of the rest of our tempting dishes from scratch on-site too whilst the meat is cooking and every item of food that we present to you will be skilfully prepared by our talented catering team at your venue using the very best locally sourced ingredients.
Hog Roasting Experts Ready To Impress Your Guests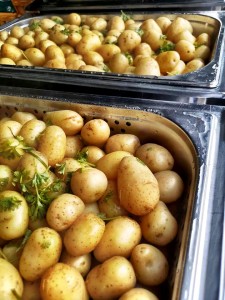 The Hog Roast Madingley team may specialise in delicious hog roasts, we are also a very versatile catering company and we take pride in our vast array of modern menus that offer something for everyone. You can choose from a delicious selection of different slow roasted meats, plus tasty vegetarian and vegan dishes. We also offer menus that can be served in different styles, depending on your preference., Our classic hog roast sandwiches with vegetarian and vegan alternatives are ideal for local community events, our varied buffets are great for family parties and our stylish 3 course meals are absolutely perfect for special occasions, including wedding receptions and anniversaries.
If you want to enjoy a superior mobile catering experience for any indoor or outdoor event in Madingley, with food that will please avid hog roast fans and guests with varied tastes and dietary requirements, look no further than Hog Roast Madingley to fulfil all of your event catering wishes.